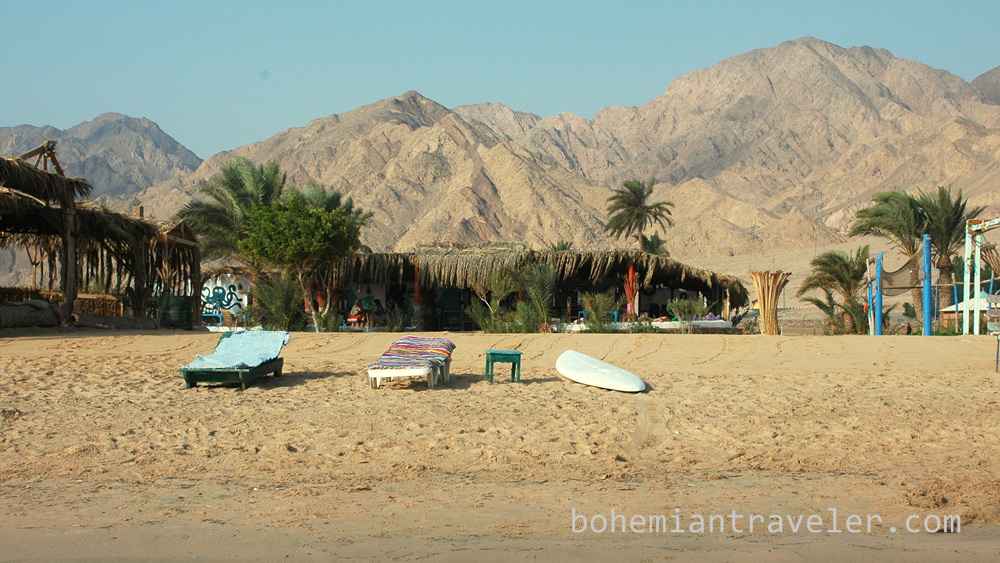 Just north of Nuweiba on Egypt's Sinai Peninsula is a crescent-shaped strip of cafes and guesthouses along the Red Sea called Tarabin. I had just come from Jordan by ferry and was in need of some chilled-out space to relax—even better if that place had sand and sea.
I stayed at Soft Beach, which has little bungalows close to the sand for $3 per night, calm water for wading into the sea, and a hut where meals are served any time of day.  These are not Arabs running the hospitality businesses in Tarabin, but rather the Bedouin. They have relaxed views in general, will serve beer, and have traditionally catered towards young Israelis on holiday.
When I visited back in '07, Tarabin was nearly vacant. Since the 2004 Taba bombings, many of the small businesses on this stretch of beach have been squeezed as dry as the craggy, arid mountains that loom behind. I hope by now, Tarabin is back to life.
As an alternative to Tarabin, check out Dahab.  Although it's been firmly on the backpacker trail for years now, Dahab is still difficult to beat for outstanding diving, snorkeling, budget accommodation, eating establishments, and basic traveler needs. 
Soft Beach resort
The bungalows at Soft Beach
Soft Beach's Restaurant seating
The beach in Tarabin
The setting Sinai sun.