How to Visit the Denali National Park on a Budget
In this article, I'll show you how to visit Denali National Park on a budget. The first thing to understand is that you are in a remote part of Alaska that has a four-month tourist season. This, among other things, drives up prices. The Denali area is not cheap, but I will help steer you towards the cheapest options available for independent travelers.
Transportation
Car Rental – Flexible, but expensive if you are traveling Solo
Car rental is your most flexible option. It is difficult to find a rental car in summer for under $200 per day, so this is only a cheap option if you are a group or family of about three or more. There are lots of car rental agencies in Anchorage and others in Fairbanks, as well.
Transportation to Denali
Rail
Train travel in Alaska is expensive and slow. But it is also the most fun. If you pay extra for the Alaska Railroad's "Gold Star" service you get a couple meals with drinks included as you slowly make your way into the Denali wilderness. The cheaper bare bones "Adventure Class" costs $181 for the steady 7-hour and 20-minute one-way trip.
Bus
Motorcoach transport to Denali via The Park Connection is your cheapest option. It is also relatively efficient, taking about 6 hours. There are two buses per day in the summer from Anchorage to Denali. It costs $100 one way. It's a good value for solo travelers.
Transportation Within Denali
If you are paying big to stay at the hotels/resorts in the Canyon (aka Glitter Gulch) near the Park entrance or at the Miners Plaza, shuttle transportation to the Park entrance is usually included with your stay. If you are staying further afield at the less expensive family-run accommodation, you'll need to find your own transportation.
If you are staying at Denali Cabins or the Carlo Creek area (Denali Hostel & Cabins, McKinley Creekside Cabins, Denali Perch Resort, or Carlo Creek Cabins) I recommend using Sheep Shuttle. Also, it's the only shared transport in the area serving these accommodations.
Sheep Shuttle runs 3-4 times per day on a fixed schedule making a few stops along the 14-mile route from Carlo Creek to Denali bus/train depot and the National Park Visitors Center. It costs $30 each way and is an excellent way to get to your park tour in the morning, get picked up from your arriving train, or do a hike like the Triple Lakes Trail.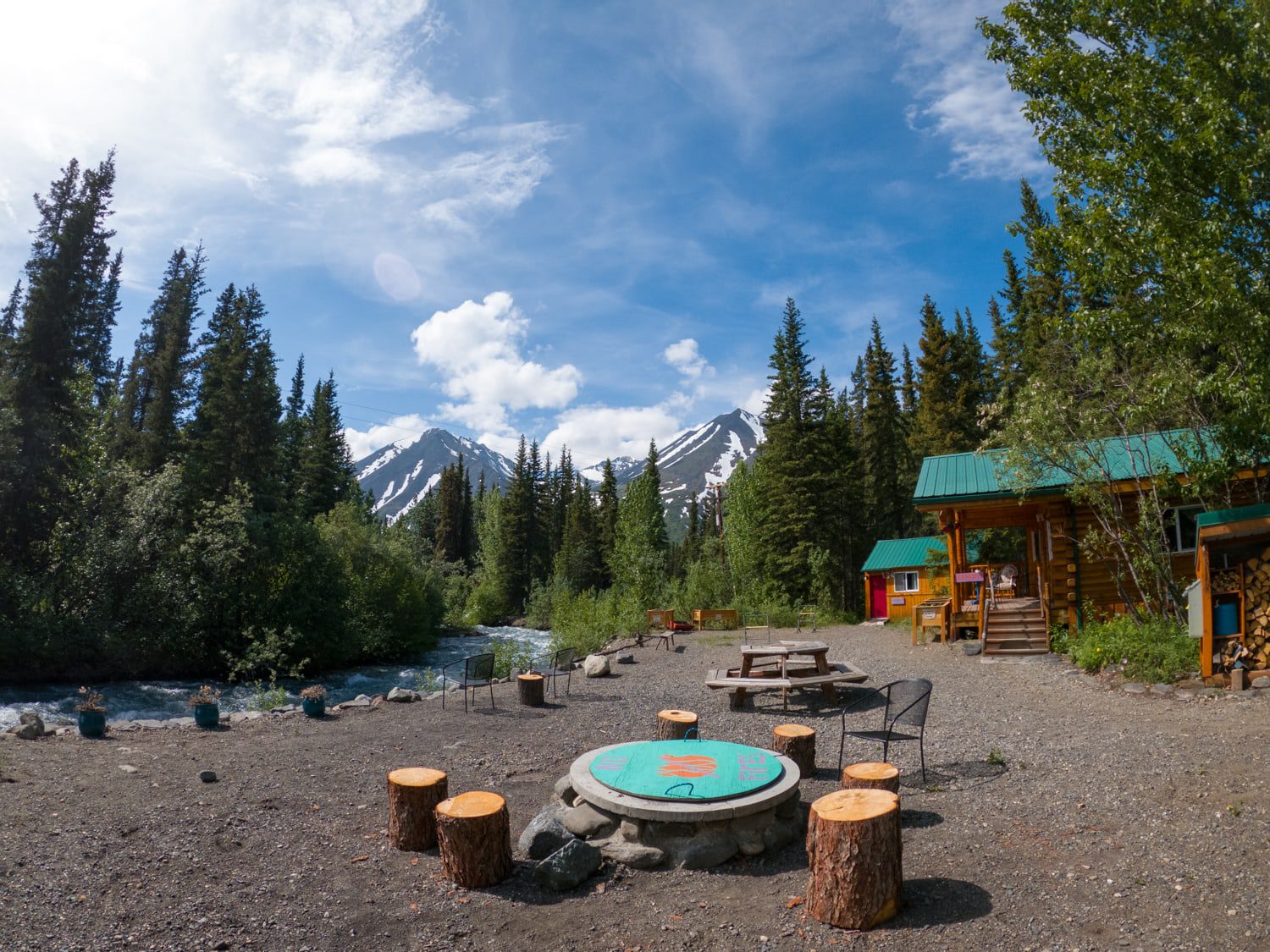 Accommodation
I have been working closely with Denali Hostel & Cabins over the past couple of years and I love their property. I have stayed with them on several occasions. They have cozy dorm beds and cabins if you want your own space. Their kitchen/hang-out area is also great for meeting fellow travelers while self-catering to save yourself some money. They have hot showers, spotless facilities, coin-operated laundry, and a lovely outdoor space next to Carlo Creek to relax after a long day of hiking or touring in the park.
There are other reasonably-priced accommodations around the Carlo Creek area but Denali Hostel & Cabins are the only shared accommodation and will be the best option for a solo budget traveler.
In the opposite direction, 11 miles further north from the Park entrance, is the small town of Healy. Healy has several vacation rentals and two reasonably priced accommodations as well as a couple of restaurants, and a grocery store.
Camping
If you're car camping or have a campervan, Riley Creek Campground, situated at the entrance to Denali National Park, is your best bet for a campground. Sites start at $20 per night and you should reserve in advance.
Food
Most restaurants in the Denali area are situated in the Canyon (aka Glitter Gulch) near the Park entrance. The Black Bear, open until 2 pm, is great for breakfast, brunch, coffee, or baked goods. Denali Doghouse (hotdogs and burgers) is another inexpensive place for lunch or dinner. Avoid Chinese Express (Thai and Chinese food to go) because their food is not recommended. There are other great restaurants in the area, like Moose-AK's and Alpenglow but they are not low-budget.
In Healy, Denali Totem Inn serves up tasty, home-cooked food at reasonable prices and 49th State Brewing is another favorite. In between the two is Healy Thai food, a good low-budget choice.
The Carlo Creek area has three good options for eating. I love McKinley Creekside for breakfast, lunch, and dinner. A cheaper option is Panorama Pizza Pub. For a closer-to-fine-dining experience, eat at The Perch for excellent food with a lovely view.
South of Carlo Creek, in Cantwell, are two good budget options. Parks Hwy BBQ is a tasty food truck and Jam Jam's Spot has delicious Jamaican eats.
Self-catering
To save money on meals, hit Cubby's Marketplace on the Parks Highway near Talkeetna on your drive north. There is also a Three Bear Market in Healy. Denali Hostel & Cabins has a full kitchen for guests' use so that is an excellent place to prepare your meals and enjoy them in their cozy dining area or outside by the creek.
Activities
Denali National Park
The main attraction here is Denali National Park. There are numerous ways to see the park, from taking a day tour along the Park Road to hiking and camping in the backcountry. Narrated bus tours start at $104 for the Natural History Tour. Until the Park Road is reconstructed (2024 or later), I would recommend the 5.5-hour Tundra Wilderness Tour ($128), which is longer and more comprehensive than the Natural History Tour.
For a cheaper alternative, make a reservation on the Denali National Park transit bus for $30. These non-narrated buses are designed to move people around within the park and make regular restroom stops and wildlife-viewing stops, just like the narrated tour buses. Transit buses are perfect for those interested in day hikes, or for people who want to experience the park on their own terms rather than as part of a tour group.
Alternatively, cyclists can bike into the park along the Park Road. Gravel or mountain bikes are best for the 92-mile gravel road. Note: The closure of the Denali Park Road at Mile 43 is expected to remain in place through the summer of 2024
The Denali National Park Visitors Center is free and open to all visitors. It's also worth visiting the National Park kennels for a free Sled Dog Demonstration. You can meet the dogs and learn about the history of mushing in the park at 10 am, 2 pm, and 4 pm daily.
There are numerous hiking opportunities near the entrance of the Park and others deeper into the Park. See Hiking in Denali National Park for more details.
Here are some recommended Denali Itineraries I wrote about in another article.
Rent an E-Bike
E-bike is another excellent way to see the Denali Area. Chain Lynx Bike Shop rents e-bikes from their location at Denali Hostel & Cabins. There are two directions to ride. Head north towards Denali National Park and the Park Road. Or go south to the Denali Highway. If you are taking the bus tour inside the national park, I would recommend riding south to the Denali Highway. Rentals start at $70 / four hours.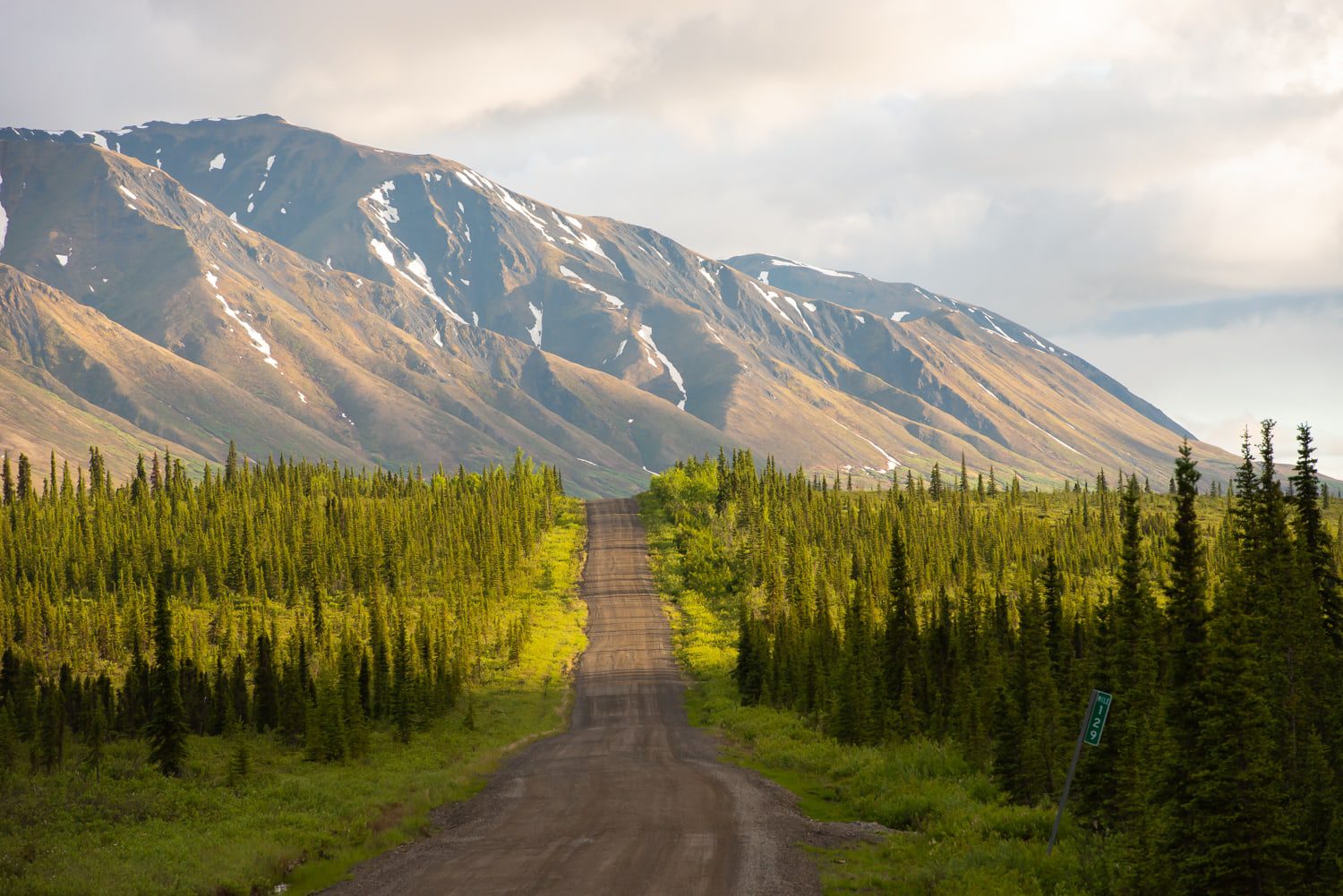 Other Options
There are other activities available in the Denali Area, most of which are excellent but not budget-friendly. Among the cheapest is visiting the huskies at Jeff King's Husky Homestead. Tours start at $60. Rafting on the Nenana River is another popular activity starting at about $105 for the shortest excursion. Joining a guided photography tour in Denali is an excellent way to get to all the best spots at the best times and receive pointers from experienced photographers. Tours with Denali Photo Guides start at $190.
Exploring Denali National Park on a budget is not easy, but planning and booking ahead will save you money.
Hope this helps you with how to visit the Denali National Park on a budget.