Our Experience Renting a Campervan in Las Vegas
What it's like to Rent a Campervan for a Short-term Road Trip in Nevada and Utah
Vanlife has really exploded over the past decade. While it may seem like the latest trend there really is something to it. Vanlife is here to stay. Minimalistic living certainly has its advantages and accessibility to the outdoors is much easier when you wake up in it.
While some vanlifers have moved full-time mobile into their campervan, others have their van set up for weekend excursions. Then there are those of us who are van curious.
I've never owned an RV or campervan but have always looked at vanlifers with envy. What if I had my bikes, bed, kitchen, and desk all in the same space. And what if that space was mobile? It would be great to try out for a season at least.
The best way to get a taste of the lifestyle is to do a short-term rental. Ideally, I wanted more than four nights, but sometimes you've got to work with the time frame you're given.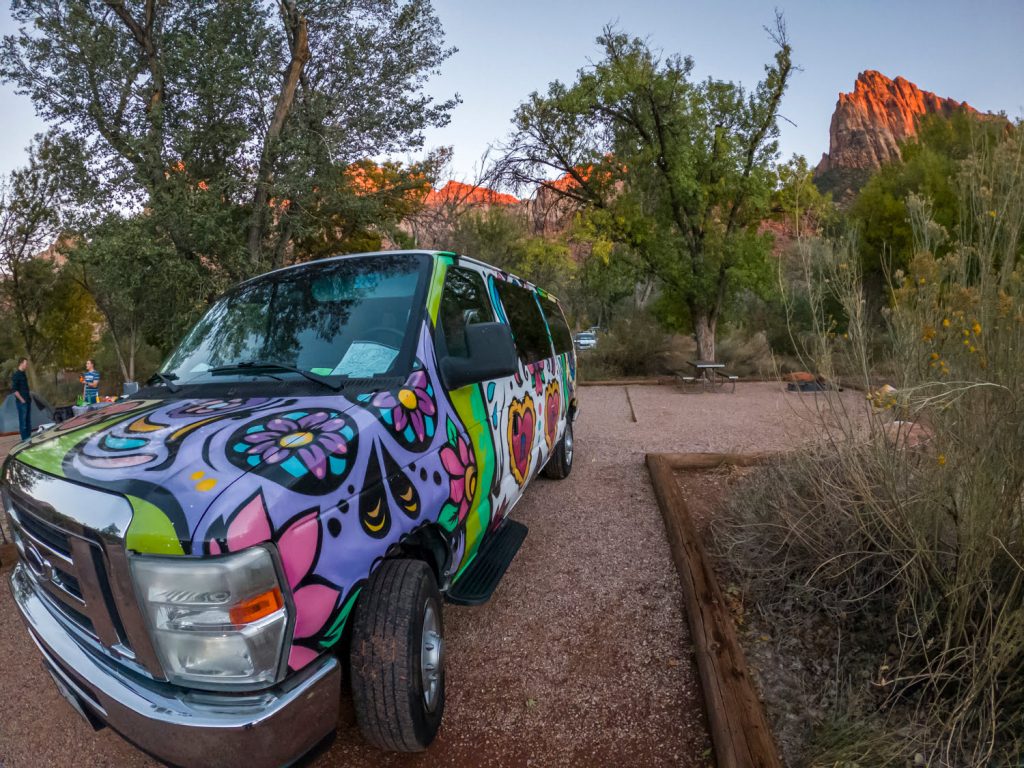 Getting out of Las Vegas ASAP
The first thing I want to do every time I go to Vegas is to immediately get out. Trust me, I've given this city a fair shot. It's not for me. There are some cool areas just outside of the city that I recommend and several spots you could park your van if you didn't want to stay in the city. Red Rock Canyon, Valley of Fire State Park, or even Hoover Dam if you are into incredible feats of engineering.
Renting a Campervan
There are several outfits renting campervans with differing qualities and prices. We went with the cheapest. Escape Campervans has a cheap base rate and everything you add onto it costs extra (including extra miles). So if you aren't careful it could end up being pricy. (This is not an advert for Escape, we paid full price for our rental.) Our van was old with lots of miles on it, but it had been well maintained. The size and layout were good for this trip, but if I was buying my own, I'd want a different layout.
Driving to Snow Canyon State Park
Snow Canyon State Park is a good example of why I often prefer a less spectacular place that I have to myself rather than share the world's best with crowds. Snow Canyon wasn't exactly deserted of people but there certainly weren't crowds. And if you didn't grow up somewhere on the Colorado Plateau and are used to this type of geology, it's safe to call this a spectacular State Park.
We were hiking on sandstone formations which were basically petrified sand dunes. The shape and scope of these rocks were extraordinary. And the views of the canyon, which consists of red and white sandstone, were incredible. We had driven the 2+ hours from Las Vegas the night before and reached the park's campground before 10 pm. It's nice to roll in late and not have to clear a space for a tent. We still had to assemble the bed in the van but that wasn't time-consuming. In the morning, we woke up right there in the canyon ready to hike.
Do I still need to pay for a campground with a campervan?
For some people, part of the appeal of vanlife is the freedom to park (almost) anywhere (legal) for the night. For those passing through town, Walmart lets vans and RVs park free overnight. Those out adventuring want to look for BLM (Bureau of Land Management) Land to park for free. There are some basic rules (maximum 14-night stay is one) but basically, National Forests, which are BLM designated, are all yours, provided you respect the land.
Sometimes it makes sense to pay for a campground. In our case, we were arriving late and didn't want to be searching for a spot to park on some moonlit dirt track in a National Forest. On the other occasion, we wanted to be camped right in Zion National Park in order to catch the early shuttle bus. On our last night, by design, we did camp for free on BLM land which I will address at the end.
Other times, paid camping makes sense if you need facilities like potable water, a shower or electricity, or want a flush toilet. A mix of these provides a good blend of planned-ahead security, comfort, and adventure.
Zion National Park
The next two nights we spent at Zion National Park. Earlier, when I referred to spectacular places with crowds, I was alluding to Zion National Park. Zion has been managing increasing crowds over the past decade. I don't blame people. Zion is one of the world's most beautiful parks. Sheer thousand-foot cliffs rise out of a slow meandering river exposing millennia of geology. 
Searching for free camping our last night
I wanted to go without a campground reservation for our last night. Nothing free is truly free so it would take some internet research beforehand and some time that afternoon to actually scope out an appropriate, safe, and legal spot. On the web, I pinpointed two promising locations. These two were the types of locations featured in the film Nomadland, which followed people who live full-time in their RVs.
We pulled into Snowbird Mesa Dispersed Camping about an hour before sundown. This was adjacent to another popular area called Poverty Flats. They are both situated up on a plateau with spectacularly desolate views, stretching out to dry, rugged mountains.
It is always rewarding for me to find an inspiring place to park without paying for it. I had done this on earlier cross-country trips while car camping with a Honda Accord. It's a great feeling. You are out there on your own, with no services, often miles from the nearest camper.
At Snowbird Mesa we were far enough away from the next RV to have privacy but close enough in case we needed help. We prepared dinner on our stove, which was set up in the back of the camper van, cracked open a beer from our solar-powered fridge, and watched the evening light turn the desert a soft shade of pink.
Would I rent a campervan again?
The next morning we woke before sunrise, ate breakfast, and drove back to the interstate. The van was due in Las Vegas before 10 am. We returned the van and arrived at the airport a few hours early and had time to let the last few days sink in.
I really love the American West. It is one of my favorite places in the world without a doubt. Ever since a childhood vacation to the southwest US, I have been hooked. If I rented a campervan again, I would want it to be for a longer time. Maybe two weeks is a more realistic minimum to really get in the grove of vanlife. I would want to get off the beaten path more and search out the quieter places; get into the wilderness. I would like to get supplied with more provisions and stay off the grid longer. More free nights on BLM land.
My real dream is to travel around the West with both my road and mountain bike to do cycling in all these places. But that might be farther off than my immediate future. Another thing to throw out there is that van life is not a replacement for camping in the backcountry. That is a real wilderness experience, beyond the comfort and security of a camper van. But a van could also be a good base from which to make multi-day treks into the backcountry.
Have you lived or traveled in a van or campervan or any kind of RV? What was your experience like?