One of the biggest benefits of a location independent lifestyle is the ability to set up a temporary office wherever I go. Sometimes I'm traveling too quickly through a town; but if the conditions are right, I'll stay a while, even if it's only a week or two.
The only requirement to set up shop is an internet connection. Bonuses for hot, sunny weather and cheap living conditions. Here are some of my favorite temporary offices that I've been lucky to have over the past three years.
Luang Prabang, Laos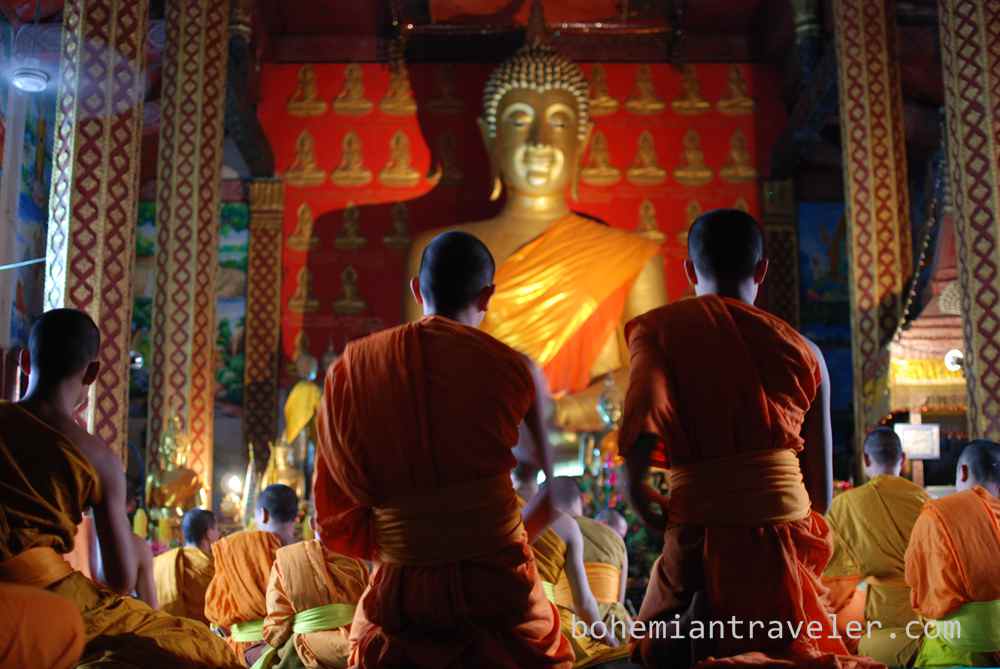 Few cities are as serene as Luang Prabang. This is Laos's crown jewel: a city of temples and monks along the graceful Mekong River. I've visited Luang Prabang twice now during my travels and it makes an extraordinary base for the location independent. Need inspiration? Walks at dawn yield the remarkable line of monks out to collect their daily alms. A stroll through Luang Prabang is always refreshing for the body and soul. Furthermore, there is reasonable accommodation in Luang Prabang as well as a plethora of tropical fruit to keep one energized. Definitely one of the most atmospheric and tranquil bases on earth for the digital nomad. Read more: A Digital Nomad in Luang Prabang
Philadelphia, PA (USA)
Philadelphia is one of the most interesting cities in the United States because of its long (for the US) history and defined local character. Philadelphia has a great art scene, an up-and-coming (or perhaps already came) food scene, and a diverse immigrant population. I was fortunate that my brother invited me to Philadelphia to stay with him for a few weeks. I got a chance to check out the city as well as get some of my work done. See all my posts from Philadelphia.
Chiang Mai, Thailand
Chiang Mai could easily be classified as a digital nomad's dream. It's got everything: heaps of cheap accommodation, plenty of good food, great WiFi connections, hot weather, and enough coffee shops and Thai tea to keep the writer caffeinated. It's no surprise that Chiang Mai is probably the world's most popular home base for the location independent worker. Read my article on Working Remotely in Chiang Mai.
Dali, Yunnan Province, China
Dali is easily my favorite city in China. It is one of the old-school backpacker haunts. But recently, the historic city seems to be more popular with domestic tourists. What so great about Dali? It's got a creative vibe that has attracted artists, musicians, and writers from around China. It's close to the towering Cangshan Mountains. It's on the edge of placid Er Hai Lake. The food is good. The cost of living is extremely affordable. The pollution is virtually non-existent (a rarity in China). Pretty much the only negative is acquiring the Chinese visa to visit Dali (as well as the government's internet censorship). Read more at A Digital Nomad in Dali, China.
Yangshuo, China
Yangshuo is another hot-spot for backpackers in China seeking a unique environment as well as diverse and affordable accommodation. Visitors are attracted to Yangshuo for its exceptional karst topography. The landscape here is simply dreamlike. When I wasn't pounding away on my laptop, I was exploring the countryside by mountain bike. Walking trails lead in all directions around the city, the local food scene is worth exploring, and cruising down the Li River in a raft is a scenic highlight. Juno and I stopped in Yangshuo on our three-month trip around China. We were there in January, and while it wasn't freezing, I definitely would only return in months outside of winter.
Hanoi, Vietnam
On the surface, Hanoi is the epitome of chaos. But really study the motorbike traffic and you will learn that yes, it is a heavy volume and seemingly impossible to cross the street, but there is some kind of order to its flow. Once you learn how to navigate this order in chaos, then you can thrive on Hanoi's adrenaline. In Hanoi I was fortunate to be hosted by one of Juno's friends for a few days. Hanoi is hot and crowded, but between our little explorations and food adventures, I was able to get in some time on the WiFi. As you know, I prefer small cities and the countryside, but Hanoi is one city that is worth the effort.
Japan
Japan has a decent network of hostels, where I made time to work each night while I was there. Although my trip through Japan was only 17 days, I made good use of my time. I did a lot of sightseeing, met tons of people, and also got some writing done. Much of my travels are in countries with transportation inefficiencies and other unreliable aspects of travel and life. In Japan, stuff works like it's supposed to. Buses are on time. Trains are fast. Not only that, but living and working environments are so comfortable that I could concentrate on writing. I know it sounds like a cliché, but much of Japan really was zen for me.
Orvieto, Italy
Orvieto is the perfect-sized city for me. It's got the atmospheric old city, few tourists (by night), and easy access to big-city Rome. We were able to get accommodation by doing a work exchange with an expat American family. They helped us to feel at home in Orvieto and living in their centuries-old apartment was a highlight as well. In between cranking out articles, we would stroll around the city to clear our minds. Winding through the cobbled streets in any direction leads to fabulous views of the Umbrian countryside below. Orvieto is built upon a large chunk of volcanic rock which adds to its curiosity. There are a large network of tunnels and rooms carved out below the city. Orvieto's cathedral is also a highlight.
Hong Kong
The major drawback to setting up shop in Hong Kong is expensive accommodation. I was super lucky that my girlfriend's friend was generous enough to let us crash at her place while she was home visiting family for the holidays. It was small, but centrally located, and I got a great feel for Hong Kong—eating late-night bowls of won-ton soup in alleyways, riding the outdoor escalators right beside commuters, and heading to the outlying islands on the convenient ferry connections. Read some of my Hong Kong articles.
The Philippines
I traveled through the Philippines for a month, working as I moved. Although the Philippines doesn't rank high for digital nomads (mostly due to slow and inconsistent Internet) I still managed to see a bit of the country and remain somewhat productive. What's important about the Philippines is that you choose your destinations wisely. Yes, the Philippines has some of the most incredible natural features on earth as well as incredibly friendly people, but it's worth noting that many cites are crowded, noisy, and polluted with exhaust—not conducive to the environment needed for writing. My advice is to head for the beaches or the mountains.
 ***
How I made it happen
A lot of these cool offices were made possible by the generosity of my (and Juno's) friends. It's amazing how meeting people while traveling has led to long friendships.
Working as a digital nomad has changed the way I travel—most notably in the speed at which I travel and the amount of gear I'm forced to carry with me. I wrote earlier about some of these differences: The Realities of Blogging from the Road
Starting out as a Digital Nomad
Those of you just starting out in your digital nomad journey may not have so many local connections and friends around the world. My advice would be to seek out the destinations with cheap living expenses and go from there.
Cheap countries can help you get started on your quest for location independence. When I first started out, I was only making a few hundred dollars a month, and locations like Laos, Thailand, and southern China really helped me accomplish my career goals without going broke.
For a great database of cheap counties, check out Tim Leffel's book World's Cheapest Destinations: 21 Countries Where your Money is Worth a Fortune.
This post was inspired by Sean Ogle's blog Location 180 and the article The 10 Coolest "Offices" I've ever had
* Philadelphia photo credit: Suzanne Tenuto
Are you a digital nomad? Where are some of your favorite "offices"?