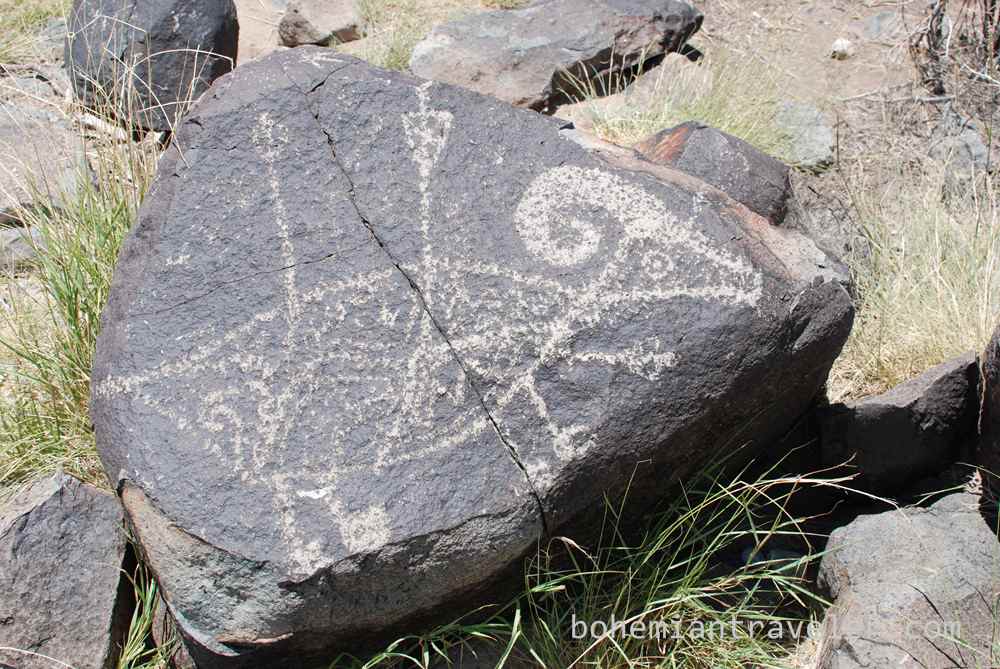 I always try to schedule a little less than I know I have time for at a destination. That way there'll be time to squeeze in something spontaneous. I followed this rule while loosely planning my recent U.S. road trip.
We were on the way to White Sands National Monument after spending the previous day at the Very Large Array and camping at the Valley of Fire. Looking more closely at the map, I saw Three Rivers Petroglyph Site along the day's route.
I decided we'd stop to check it out. And I'm glad we did.
The number and concentration of petroglyphs here make it one of the largest and most interesting petroglyphs sites in the Southwest U.S. More than 21,000 glyphs of birds, humans, animals, fish, insects and plants, as well as numerous geometric and abstract designs are scattered over 50 acres of New Mexico's northern Chihuahuan Desert.
The petroglyphs at Three Rivers date to between about 900 and 1400 AD. They were created by Jornada Mogollon people who used stone tools to remove the dark patina on the exterior of the rock.
A short trail leads hikers to the top of a small hill where the highlight petroglyphs are numbered.
More Info:
Day use $5 per vehicle.  The Park is open year-round. From April to October, the entrance gate is open from 8am until 7pm. From October until April—8am to 5pm.
Three Rivers Petroglyph Site is located 17 miles north of Tularosa, NM, and 28 miles south of Carrizozo, NM on U.S. Route 54. Turn east at Three Rivers onto County Road B30 and travel five miles on paved road, following signs.
View more photos of the petroglyphs below: