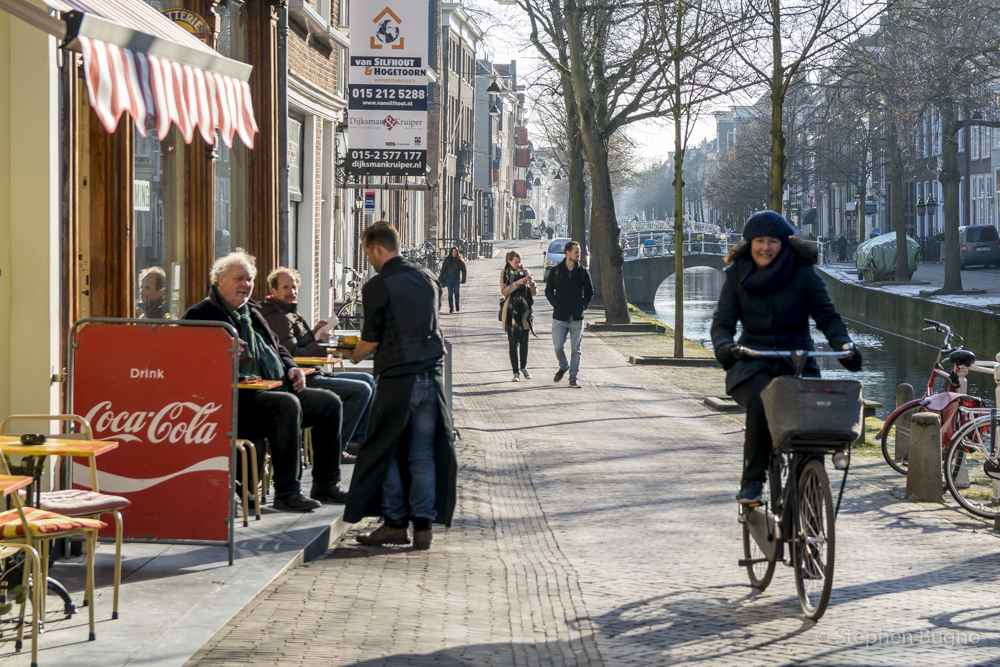 A Walk around Delft
The Netherlands is such a densely populated country that when arriving south from the lesser-populated Scandinavian countries, even a small Dutch city seems big. This is my first impression of Delft. Delft is described in the guidebooks as a small, lesser-touristy version of Amsterdam. It's got the same pretty canals and architecture, just in a smaller package.

This I find to be true. What I also find is that the city seems friendly to me. It has that small town warmth to it, but being situated in Holland, has the population to support a lively restaurant, cafe, and bar scene. It's also got enough attractions to keep the traveler occupied for the better part of an afternoon. Better still is the chance to experience a typical Dutch city without getting slammed by high prices or throngs of tourists.

Delft is the kind of place I'd like to stay overnight. This gives you the obvious benefit of soaking up the atmosphere after dark and not worrying about catching a train back to the place you're staying. I had intended to stay in Delft, but as a solo traveler, couldn't find any affordable accommodation because there aren't any hostels in Delft. I stayed the night before in The Hague, which I didn't regret.

The Hague is a bigger, cosmopolitan city with grand buildings and a diverse array of eating establishments. It's also got enough nightlife to keep most people happy. But I was pleasantly surprised by the attractiveness of its old town, when all I had ever heard about The Hague was simply through its role as international court.

When I stepped off the train and into Delft's tourism office, I knew very little about the city's past. I asked the woman there about what the city was famous for, besides the blue-painted pottery that has made its way to far-off corners of the world. "Well," she started, "Delft is known as the birthplace of the painter Vermeer, and yes, for the Delft blue pottery, for our technology university, and…" There was a slight pause before she finished by saying "We're are quite famous, too, for our water management."

You can't get anymore Dutch than that: Delft blue, Johannes Vermeer, and well-respected water management.


Take a Walk around Delft with me