It wouldn't be far from the truth if I told you I'm in China's Yunnan Province for one reason: tea. True, the scenery is a real draw, and ancient towns like Lijiang, Shaxi, and Dali are a plus. There's also trekking at Tiger Leaping Gorge and the diversity of the region's numerous ethnic minorities.
Yunnan: Home of Pu'er
But tea is the enticement for me. Yunnan Province is where the famed Pu'er variety comes from. Pu'er can be classified as a post-fermented tea that that is available in green or dark varieties. Pu'er undergoes fermentation after partial oxidization when it's dried and rolled. It is kept often for years to age: one year, two, three, I even bought a Pu'er in a San Francisco tea shop from 1979. The tea is known for its age-ability and investment stability (although there was a Pu'er crash in 2008). It is also used by some as a dieting aid, thought to reduce body fat.
I started my mission for tea in the capital and biggest city of Yunnan, Kunming, in a tea store called Ten Fu's. Ten Fu's has numerous helpful and knowledgeable staff. When we visited, the shop was empty and my travel partner and I received the attention of no less than four associates. Two of them spoke enough English to get across the basics of their products.
They carried oolong tea from the highlands of Taiwan, black tea from Fujian Province.  We didn't come all this way to Yunnan to taste tea from Fujian. So we directed our attention to the Pu'er Department. I was unaware until this point that they made Pu'er in a green variety. The green, or raw Pu'er is the best kind to keep for aging (as long as it's stored in appropriate conditions). Today, however, we were going to compare some dark Pu'er with a taste test. They had big disks aged one to four years ranging in price from 25 to 240 CNY ($4-$40 US).
History of Pu'er and Tea-Horse Road
Pu'er tea has its origins in Yunnan Province. It was pressed into round disks to trade with the Tibetans. The route was called the Tea-Horse Road, and went from the jungles of Xishuangbanna, north through Dali, Lijiang, and along the high roads into Tibet, before turning south into India and Burma. During the Tang dynasty, the Tibetans sent horses down into China in exchange for this Yunnanese tea. Although less well-known than the Silk Road, the Tea-Horse Road was just as important in terms of trade, and the movement of ideas, peoples, and religions.
Tasting Pu'er
We wanted to taste the 2-year compared to the 3-year. Tasting tea is similar to wine in the way that spending more money on the product doesn't mean you'll like it more. The salespeople tell you the longer it's aged, the better it is, and it they are right. But remember it is up to the individual palette as to which you prefer.
We sat down at the tasting table and the associate broke about a tablespoon of the 3-year tea from the disk. She placed it into a clay teapot which had already been warmed by being rinsed with hot water. Pouring hot water over the leaves for only a few seconds, she rinsed the tea and allowed it to slightly open up. She then repeated the rinsing and used the rinse water to heat the tea cups. I stuffed my nose in the pot to smell the deep, pungent earthiness of the newly opened leaves.
For the first brew she used 95 degree C water and allowed 20 seconds for steeping. We both sipped. The reddish-brown liquid had a mildly earthy, slightly musty, smooth taste. She kept brewing, and with each infusion, the tea changed slightly, getting darker and richer. We liked this, but wanted to compare it to the 2-year.
We repeated the process with the 2-year and it tasted only marginally stronger and more earthy, which we liked more. We ended up buying a disk of the two year.
How to Taste Dark Pu'er Tea:
Rinse tea pot to warm

Rinse tea cups to warm

Rinse tea leaves in pot twice

Boil water and allow to cool to 95 degrees C

Infuse tea for about 20 seconds

Increase infusion time slightly with each additional infusion

Enjoy up to 15 infusions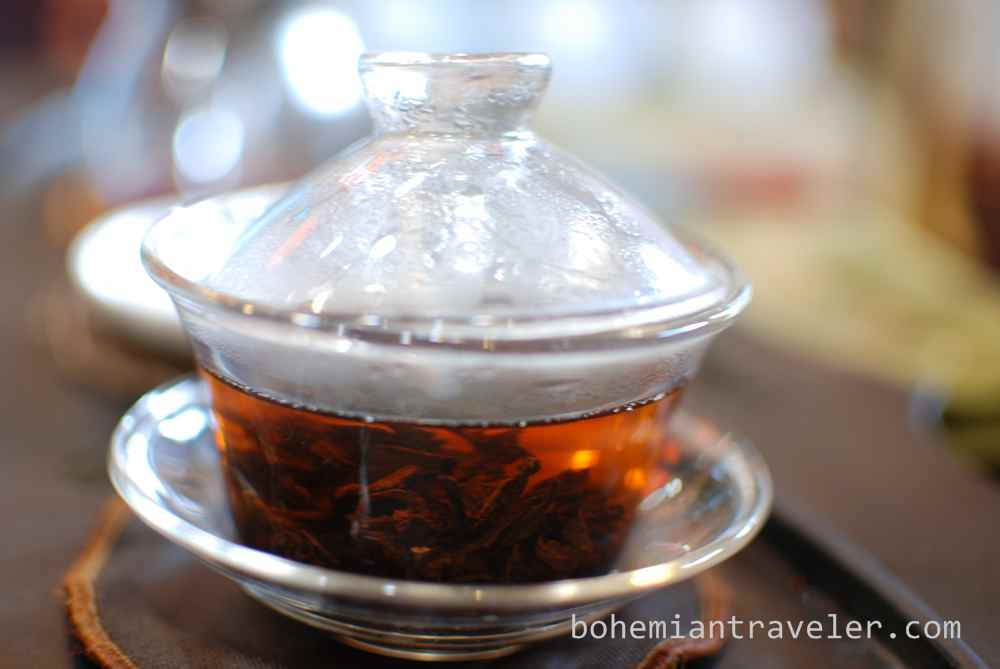 The plan now is to travel to Xishuangbanna, in the south of Yunnan, where the tea is grown.