Thanks to Runaway Juno for nominating me for 7 Super Shots started by Hostelbookers.com. You can read her 7 Super Shots post here. Basically, you choose the photos that best fit in the categories listed. You can check out the rules here. And see other round up posts on twitter #7SuperShots
These are my 7 Super Shots:
Photo that takes my breath away
This shot was taken near Kazbegi, in the Republic of Georgia. The Caucasus is a fascinating region not only because of its cultural diversity and political instability, but for its topographical range: from subtropical Black Sea coast, to wine country, to the imposing Caucasus Mountains. The vicinity around Kazbegi is particularly striking, with deep green hills sloping to rocky summits. This photo was taken on a hike up into a village with summertime-only access. In winter its residents stay put, isolated by the hefty snowfall.
Photo that makes my mouth water
Malaysia is a food country to get excited about. And one of my favorite dishes there is laksa—a coconut-based curry soup. This bowl I ate in Malacca. I find it quite easy to engage with food vendors and cooks. I think most are happy that I'm interested enough in what they're cooking. The woman that made this told me that the Nyonya laksa is prepared differently from other variants like Sarawak laksa and Penang laksa. She used prawns, bean curd puff, egg noodles, half a hard-boiled egg, fish cakes, fish balls, homemade chili paste, and coconut milk.
Photo that makes me dream
Cabo de São Vicente, near Sagres, in southwestern Portugal is one of my favorite places on earth. I spent an afternoon walking along the cliffs that rise above the ocean here in the farthest stretches of the European continent. From Sagres, I continued all the way to end, where the lighthouse sits at Cabo de São Vicente. Sagres is one of the best beach towns in Portugal, where the atmosphere is relaxed and you'll find some excellent beaches for surfing, swimming, or lying in the sun.
Photo that makes me think
It's the facts about Gettysburg that really get me thinking. Just how could a town of 2,400 cope with the horrific aftermath of this three day's battle which left 8,000 human bodies as well as 5,000 dead horses decomposing around town? Not to mention the 27,000 wounded soldiers that needed to be cared for. I can't even imagine the stench from the defecation of 70,000 horses and 160,000 men which had no proper toilet facilities.
Photo that tells a story
I can't help but feel extremely sad about what's going on in Syria right now. I met so many generous, kind and hospitable people while traveling there back in 2007. This is a photo of a family who live outside of Aleppo. My friend and I met the father on a bus and we got talking and he invited us over to his house for dinner. We then met the whole family.
Photo that makes me laugh
How can you not love this? We set out from the town of Phongsaly in northern Laos for a trek to visit an ethnic hill tribe village up in the mountains. About twenty minutes into our hike, along the side of the road, was this kid riding a water buffalo. His mom was a little farther ahead and she was smiling too. We said Sa-bai-dee, snapped a few photos, and kept walking.
Photo that I'm most proud of (aka My National Geographic moment)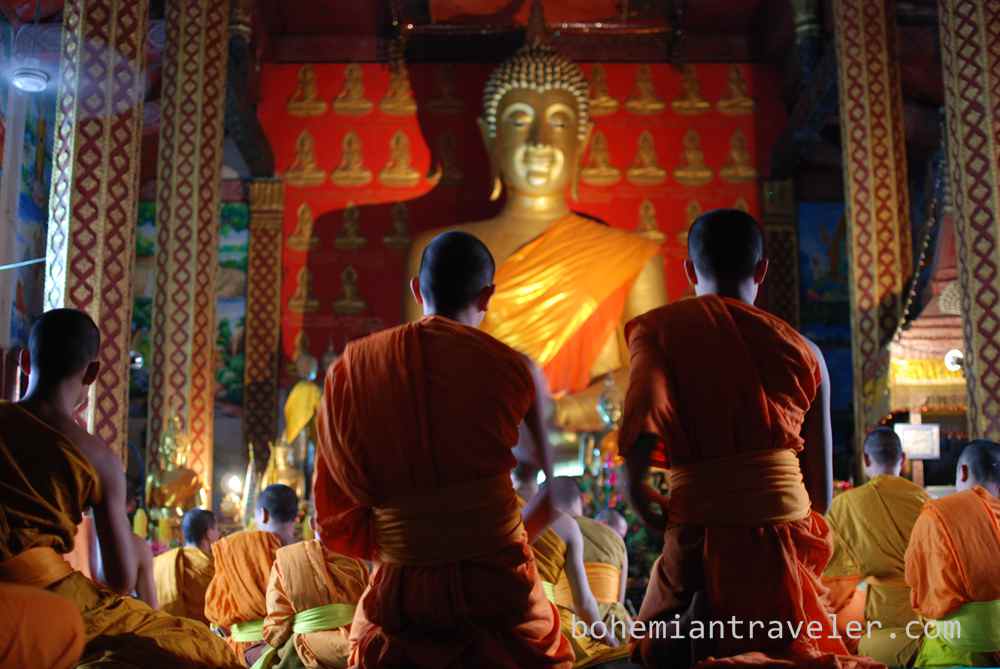 So I was pretty happy with this shot. It was about 4:30pm and I wandered into a monastery grounds in Luang Prabang, Laos. One of the novice monks approached me and we started chatting. He wanted to practice his English. After 15 minutes he said he had to prepare for the chanting at 5 pm. He invited me to stay and observe. I stayed in the back of the temple and the monks began filing in and the chanting started. It was a really serene experience.
Now I'm going to nominate Noel Lau of wander2nowhere.com and Katie Tibbets of BreakawayKatie.com