Andong Hahoe Folk Village
Andong Hahoe Folk Village is one of the best places in Korea to experience a traditional village. Although it has become popular with tourists, it has maintained its traditional architecture and many locals still live here and cultivate the nearby fields. The village is well known for its large tile-roofed houses belonging to the Ryu clan and the surrounding thatched-roof houses throughout the village.
Hahoe is considered one of the most valuable aspects of Korean culture because it preserves Joseon period-style architecture, folk traditions, valuable books, and an old tradition of clan-based villages. The village was established by the Ryu clan of Pungsan and is the birthplace of renowned scholars of the Joseon Period such as Gyeomam Ryu Un-ryong and Seoae Ryu Seong-ryong. Hahoe gets its name from the Nakdong River, which snakes perfectly around the village's perimeter. The name means "village enveloped by water".
We visited in early spring and although it was very quiet, there was still enough to occupy our time. We mostly wandered around and took photos in the morning light. We visited a few of the houses which are open to visitors and stopped into the small exhibit in one of them. Unfortunately, the river ferry wasn't running because the water level was too low. But normally you can cross the river and climb to the top of Buyongdae Cliff to get a view over the area and the bend in the river. When the weather's warm there is a stretch of sandy beach to enjoy as well.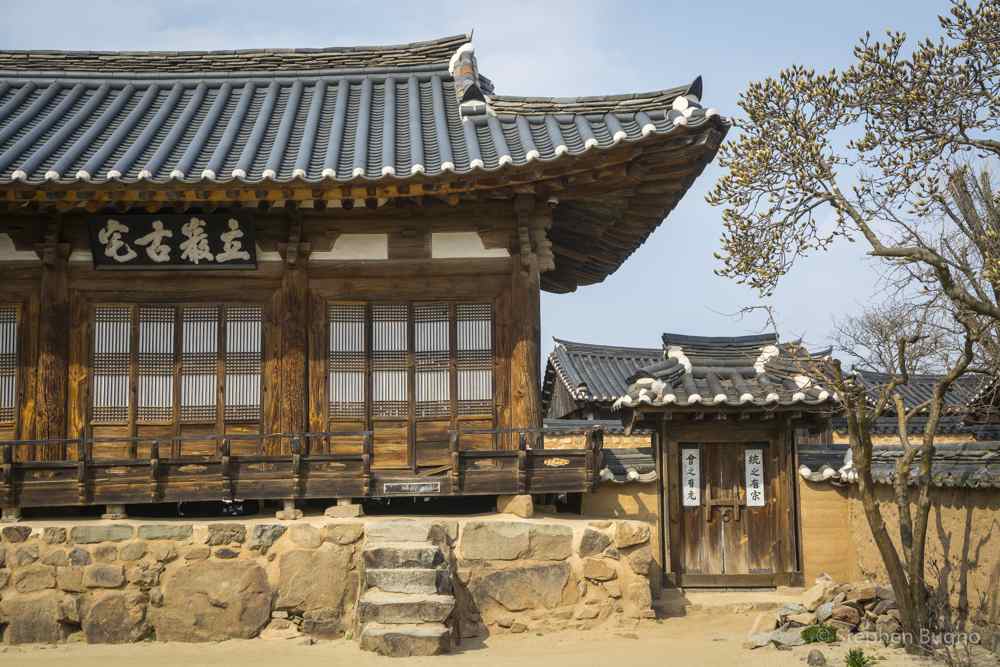 Be sure to try the local specialties like Andong soju (distilled alcoholic beverage) and jjimdak (Andong-style chicken and cellophane noodles). You'll need to walk 1 km out of the village (or take the shuttle bus) to eat at one of the many restaurants there.
Your ₩ 3,000 ($3) entrance fee to the village helps with the preservation of the village. The government helps with some of the maintenance issues like thatching the roofs and border walls.
About 4km from the village is Byeongsanseowon Confucian Academy. Byeongsanseowon is a Confucian school that was established by esteemed Confucian scholars to pay tribute to the memory of Seong-nyong Yu (1542-1607). Father out is the Gosan Seowon (Confucian Academy) which is considered among the historical and architectural treasures of Korea.
It's advisable to visit Andong Hahoe Folk Village in the spring or fall during the week when it's quiet, although there are more programs running on the weekends and throughout the summer, most notably the Mask Dance Drama Performances. The Andong Mask Dance Festival is held every autumn.
We visited Hahoe to prepare for our upcoming Experience Korea Tour. If you're interested in traveling around Korea with a local and getting an inside perspective on Korean culture and food, this is a great opportunity. Juno Kim will be leading the tour.
Photos of Andong Hahoe Folk Village